HoverGrease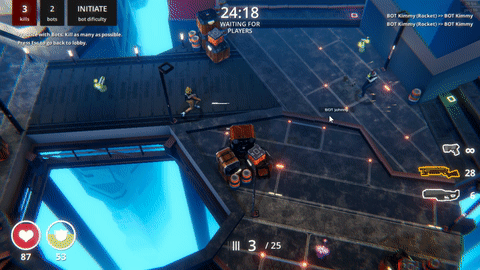 OUR BIGGEST UPDATE YET
Practice with BOTS
New weapon: Shotgun
No more High Ping players in your game
No more random disconnects
Ground Collision for Rocket Launcher
Less confusing game options (F4A only)
No more Gamepad errors

PRACTICE WITH BOTS
No more waiting around for players. Play with Bot Kimmy and Bot Johnny while you wait, but with a twist: progress through over 40 stages with 9 difficulty levels. This is perfect for training and improving your skills.
SHOTGUN
We added a new weapon to blast your opponents, the closer the enemy is the bigger the damage! You will certainly enjoy this one, trust us!
NO MORE HIGH PING
There will not be any more players with high ping connected in your game, this means the stats will be improved and more accurate. Unfortunately, this might mean that you won't be able to join any region you want unless you have a decent ping (minimum of 200).
NO MORE RANDOM DISCONNECTS
With the help of some of you (you know who you are!) we have now fixed one of the biggest bug causing disconnects from the game, accounting for 90%of the recorded disconnects.
GROUND COLLISION FOR ROCKETS
Something small that might have gone unnoticed, but it's there now. Rockets will explode if they hit the ground. You can see it in action when you have the high ground shooting down at an enemy.
LESS CONFUSING GAME OPTIONS
As part of our goal to help you guys find each other in game, we will dynamically control the flow of the players. This means, you can only play F4A if there are under 4 concomitant players in your region's server (number subject to change)..
NO MORE GAMEPAD ERRORS
Gamepad support is deactivated. This results in solving the auto-moving bug that some of the players had. We are working on including the gamepad controls back in one of the next updates.